Technical Details
Consisting of only 4 parts:
Two hubs
Elastic insert, toothed and open faced
Holding ring
Hubs:
Two identical hubs made of cast iron, (0 and 00, made of a light metal alloy). Each hub has eight teeth, (A0 and A00 has 6 respectively 4 teeth).
Elastic insert:
Toothed and open faced, made of a special polyurethane elastomer.
Resistance to high torque, shear and shock loads
Highly resistant to abrasion, humidity, oil, corrosive atmospheres and chemicals
Retains performance characteristics at temperatures ranging from -40°C to +80°C, for other applications please ask
Long-life even in abrasive, corrosive and humid atmospheres, no service or lubrication necessary
Manufactured with different characteristics (Standard, high temperature, high performance) and hardness. Advice available.
Has an outstanding durability.
Ring:
The ring is made from a polyamide or steel. It has a pin inside for adjusting the ring on the elastic insert and two threaded holes through which the screws are fitted. This ensures that the ring does not move during operation.
Technical specifications
Rapid disconnection,without disrupting the motor,
minimal maintenance and downtime
The hubs can remain in-situ for the life of the device
Standard coupling type A (see below)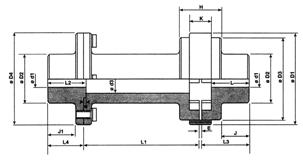 With clamped hubs type AT